Why All Marketing is Digital in B2B Tech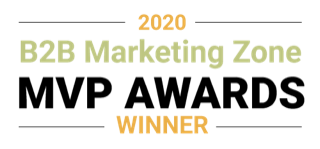 The Article in 60 Seconds
As a marketing executive, are you ready to drop the term "digital marketing" and just start calling it marketing? Us too. At Golden Spiral, everything we do has some kind of digital element; our clients wouldn't be able to compete in their B2B tech markets otherwise. We think it's time for marketers everywhere to start speaking a new language.
In this article, we'll discuss:
Think About This
The term "digital marketing" came about in 1990 when the first search engine launched. [Simplilearn]
45% of B2B buyers spent more time researching purchases in 2018 than the previous year, and 45% use more sources to research and evaluate purchases. [Forbes]
By 2023, digital will surpass two-thirds of total media spending. [eMarketer]
What's the Relationship Between Traditional and Digital?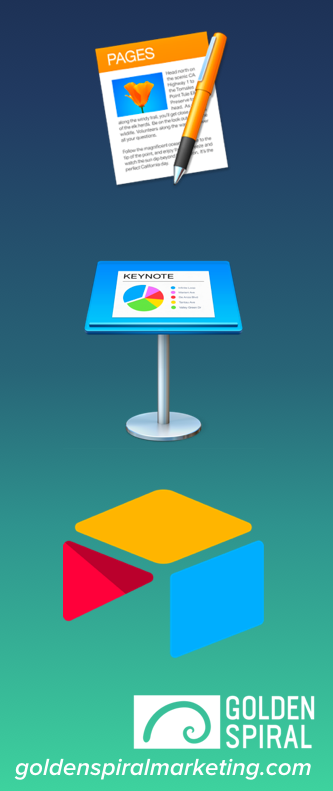 As a content writer at Golden Spiral, my job is to draft and edit content pieces that support our clients' marketing and business goals. This means I'm always writing—whether it's a blog post, a white paper, social media posts, or copy for webinar slides. And, I've created my own process for getting ideas from my head and into a format that makes sense to a reader.
Almost all of my note-taking, outlining, and writing takes place in a digital format (Pages, Keynote, Airtable, etc.), but every now and then I get stuck and need to use pen and paper to get my thoughts in order. Sometimes I have to go back to basic writing mechanics in order to create something new and compelling.
But, I would never try to write an entire blog post in a paper notebook, or maintain a social media calendar on a whiteboard—it would be inefficient and ineffective.
I see a lot of similarities between pen-and-paper writing and traditional marketing platforms, such as radio, billboards, and print magazines. These formats helped set the foundation for how we use marketing today, but they're no longer the most effective way to get in front of buyers—especially in the B2B tech space.
How We Got Here
Despite this, the language marketers use often distinguishes between "traditional marketing" and "digital marketing." According to Simplilearn, the term "digital marketing" first came about in 1990 when the first search engine, Archie, launched. Technology has drastically changed since then, and "digital" hasn't been a new concept for a long time.
So, why do we still treat digital marketing like it's its own thing? In 2020, isn't all marketing digital? In B2B tech, it has to be.
B2B Tech Marketing = Digital
When it comes to marketing a SaaS solution, your campaigns must be built on a digital foundation to get in front of buyers and, ultimately, convert leads into customers.
Here are a few reasons why all B2B tech marketing must lead with digital.
1. It's how your buyers are searching
The B2B buying cycle is getting longer and longer, with more steps being added between a buyer's initial exposure to a vendor and the final sale. According to the 2018 Demand Gen Report, 45% of B2B buyers are spending more time researching purchases than the previous year, and 45% are using more sources to research and evaluate purchases. And, where are they spending their time doing this research? Online, of course.
This means you need to have a strong online presence and ample content that answers their questions and provides clear-cut information about your product. Traditional marketing doesn't support this research phase because it doesn't provide an instant response to a buyer's query. Buyers can't wait for a billboard or a TV ad to appear featuring a SaaS solution they need.
However, digital content can meet this need for instant information, especially when it incorporates a robust search engine optimization (SEO) strategy. If you develop well-optimized web pages, blog posts, and rich content pieces, you'll rank high on search engine results pages (SERPs) for your customers' top questions, and get in front of them during this pivotal stage.
2. Your marketing strategy should be as modern as your IT solution
As a SaaS provider, you deliver solutions that replace manual, inefficient processes and strengthen business performance. Your team continuously works to keep up with customer demand for convenience, speed, and automation. Shouldn't your marketing strategy be as modern as your technology? If you build your marketing plan with a digital foundation, it can be.
For example, if you lead with print ads and direct mail pieces, you may give the impression that your company and technology is not up to speed with modern marketing and communication. On the other hand, if you invest more in digital ads and email campaigns, you'll meet customers where they are, and better align your marketing with your technology. With digital expected to surpass two-thirds of total media spending by 2023, taking this approach ensures you remain current with marketing trends and extends your reach with targeted customers.
This underscores the value of marketing automation, as these tools allow you to integrate each component of your marketing campaigns and track your leads' paths through the buying funnel. Just as your SaaS solution streamlines business processes and increases efficiency, marketing automation platforms do the same for your campaign execution.
3. Digital covers it all
There's no need to have a separate plan or budget for "digital marketing" because in 2020, all marketing is digital. Even if you employ some "traditional marketing" elements, they should be augmented by digital elements. For example, your trade show marketing plan should, of course, include a physical booth, but the booth should be outfitted with digital features, like a marketing video on loop or space for product demos. And, pre- and post-show marketing should center around digital communications, like email campaigns and social media content.
In The Ultimate Guide to B2B Marketing in 2020, HubSpot dives into the top strategies B2B marketers should incorporate, breaking them out into the following categories: Email Marketing, Digital Marketing, Content Marketing, and Social Media Marketing. While Digital Marketing is its own category (focusing on website development, SEO, and paid search), all of the other categories are digital in nature.
In fact, the only one that could incorporate non-digital elements is Content Marketing, if a company wanted to provide its sales team with printed sales sheets, white papers, or case studies. But, true content marketing is tightly integrated with an SEO strategy and supported by marketing automation workflows that push leads through the sales funnel with downloadable materials.
So, really, it's all digital marketing, isn't it?
Next, Switch from Digital to Data-Based
Once you've established a digital foundation for your marketing initiatives, the next step is to use data to derive real value from your digital platforms. These platforms don't just push out content and automate workflows; they contain critical insights that can help shape your overall marketing strategy.
When you move from digital marketing to data-based marketing, you'll be able to:
1. Understand Your Buyers Better
Digital marketing tools help you get to know buyers better by tracking opens, clicks, and downloads from emails, landing pages, social media posts, and more. This tells you which content and messages resonate and which industry trends and issues are most pressing for their business.
With this deeper understanding of your buyers, you can more effectively market to and communicate with them—because you know who they are and what they're looking for.
2. Determine ROI
In addition to telling you more about your audience, data generated by digital platforms also highlights your marketing ROI in a way traditional marketing vehicles cannot. It's hard to determine the number of impressions your ad or bylined article received in a print publication, but in a digital campaign, you can get this data immediately. And, marketing automation tools track who opens your emails and triggers follow-up communication—something impossible with direct mail.
This tells you what works and what doesn't work. You can quantify the success of your campaigns, and pivot your strategy when necessary.
3. Make Informed Marketing Decisions
When maximized, all of this data ultimately informs your marketing decisions, such as: who to target, which channels to use, when to distribute content, and which types of content to prioritize. By turning to data for this guidance, you'll be better positioned to launch marketing campaigns that drive leads through your funnel and increase sales conversions.
Rather than going off of gut instincts or previous experiences, use performance data to build your marketing strategy for better results.
The First Thing to Do After Reading This Article
Conduct an audit of all marketing activities to identify digital gaps. Consider eliminating outdated methods or augmenting them with digital components that can deliver the data you need to develop the right strategy for your business.