Why B2B Marketing Can't Overlook Mobile – Especially Now
Mobile use — whether on a smartphone or tablet — continues to climb, even with the COVID-19 pandemic keeping most of us working remotely and barely venturing out of our homes. The fact is, we rely on mobile at all times, and in all places. B2B buyers initiate, and sometimes complete, their buying journey on mobile, and that trend continued even as the pandemic persisted. Go where your customers are by building out the best version of your mobile marketing self.
Think About This
Mobile accounts for half of web traffic worldwide. It's been hovering around the 50% mark since 2017 — 10 years after the iPhone made its debut.
91% of B2B buyer searches are carried out on a mobile device.
Moreover, 25% of B2B buyers bought the product online.
56% of businesses expected to make at least half of their work-related purchases online.
On average, they'll conduct 12 searches prior to going to a specific brand's site.
According to the June 2020 COVID-19 Edition of the CMO Survey, the percent of marketing budget spent on mobile continues to rise — predicted to grow by as much as 73% over the next five years. During the pandemic, respondents said they were spending 70% of their mobile budget on mobile optimization of their website, and 30% on apps.
Learning How to Think Beyond Mobile First to Mobile Best
Emphasizing mobile in your B2B marketing mix right now may sound a bit counter-intuitive for two reasons: the COVID-19 pandemic has kept most of us at home, and B2B buying decisions are made at work, where buyers are usually parked in front of a laptop or monitor. Wrong. We all use our phones, all the time — regardless of where or for what. Given the omnipresence of mobile communication in our lives, here's how B2B marketers can build a mobile marketing engine that goes beyond mobile first to mobile best—especially in a time of COVID.
The COVID-19 Impact on B2B Mobile Marketing
While there's no denying that COVID-19 has had a negative impact on most marketing budgets, mobile marketing spend spiked by 70% during the pandemic. Going forward, nearly half of the marketers polled by WARC in their recent Mobile Marketing report said they will spend a quarter of their entire marketing budget on mobile advertising. It's for good reason, considering mobile's usage has jumped by 10% (and business app usage jumped 220%) during the pandemic.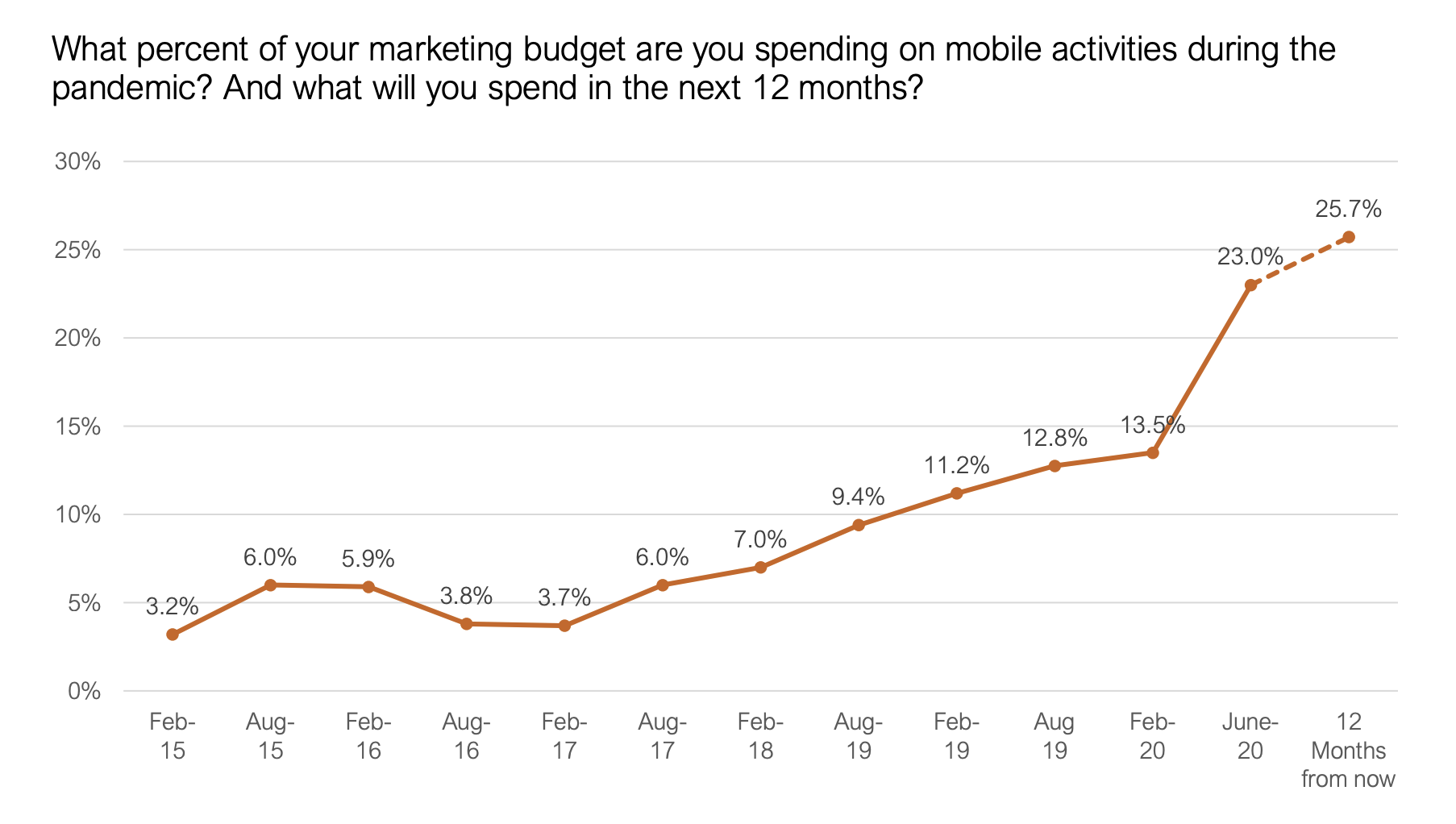 In addition, app usage spiked significantly in the first quarter of 2020: app downloads rose as high as 132% over the same period in 2019. Clearly, mobile marketing remains one of the fastest-growing and most effective ways to engage with B2B audiences.
The Buyer's Journey Begins on Mobile
If an email is not displayed correctly on mobile, they'll delete it in less than a New York minute—try 3 seconds.
Content marketing, SEO, email campaigns, paid search, paid and organic social—in short, the primary tools in your digital marketing toolbox need to be as mobile responsive as possible, because mobile is where the buyer's journey begins—and sometimes ends.
We've been talking a lot about the self-service B2B buying culture and the growth in group decision-making for B2B purchases. Mobile is a further proof point for this evolution. It's where 91% of B2B buyers begin their search. A quarter of them will actually complete their purchase online. Not surprisingly, they expect sites to be well-optimized for mobile. If an email is not displayed correctly on mobile, they'll delete it in less than a New York minute — try 3 seconds. A mobile-responsive email design can increase unique mobile clicks by 15%, partly propelled by the fact that 60% of email opens are from mobile devices.
Being Mobile Best in a Time of COVID
What does a seamless user experience look like for mobile? Here are a few thoughts to get you started on optimizing your website, and maximizing the effectiveness of email campaigns.
Mobile Optimization for Your Website
Make sure your site is easy to use on a small screen, with:
appropriately-sized buttons
less clutter and distraction
simplified menu choices
streamlined data entry
expandable images
easy-to-access home page
Concert Genetics provides an entirely different experience on mobile from their desktop version. The company, which serves as a clearinghouse for information on the ins and outs of genetic testing, keeps it simple, accessible, and readable.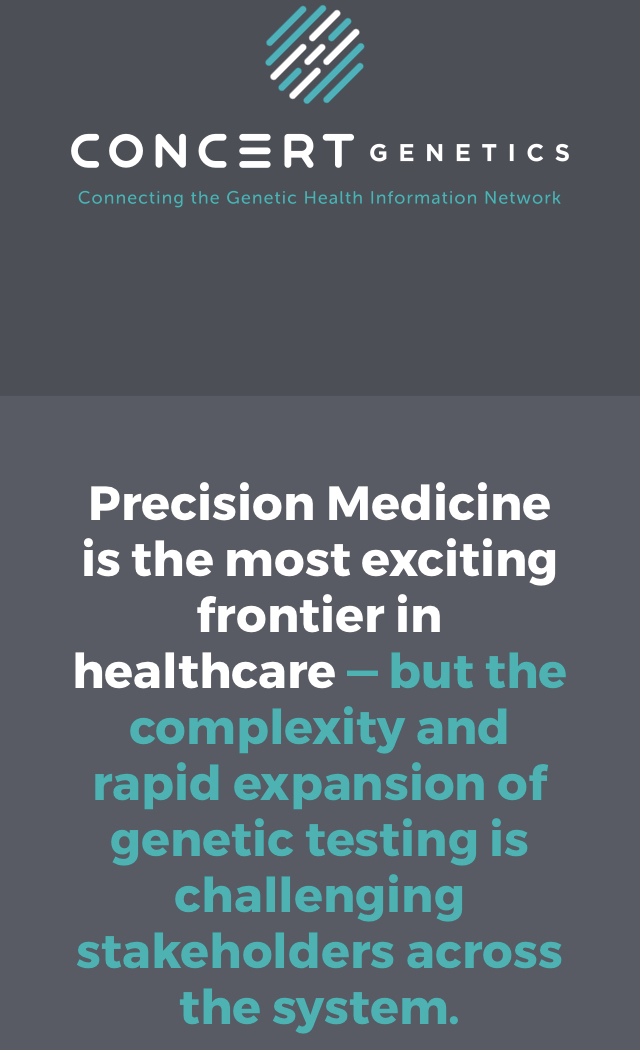 SEO Considerations
"Sites are crawled and indexed using their mobile version, so the content and user experience prioritized there will be how crawlers navigate your site." – Micah Owens, Golden Spiral
More specifically, mobile is at the center of SEO. "Sites are crawled and indexed using their mobile version, so the content and user experience prioritized there will be how crawlers navigate your site," says Micah Owens, Golden Spiral's Senior SEO Strategist.
You don't necessarily need to build a separate mobile version of your website (although some do). Just make sure your current site is as mobile-friendly as possible: in load speed, touch points, and functionality. Google's Page Speed Insights reports on/provides suggestions for improving mobile and desktop page performance. The mobile-first index on Google refers to the preference of mobile-friendly sites over desktop-only websites. "All of these have SEO implications, and the importance of Mobile Site Speed (and the recently prioritized web vitals, are now important ranking factors," says Owens. Making sure your website is responsive in mobile while also optimized on desktop is key.

Email Campaigns on Mobile
As with your website, clarity and brevity rule the day when factoring mobile into your email campaigns. Clearly state the value of why it's worth signing up to keep getting updates and offers from your company.
Drill down on your audience segmentation to make sure you're reaching the right person with the right message.
Refine your CTA. Less is sometimes more: one site found their emails with a single CTA increased clicks by 371%. Buttons are better than hyperlinked text, but as with websites, make sure they are appropriately sized and surrounded by plenty of white space; it's a little harder to click on a button during a strap-hanging subway commute than sitting at your desk!
Consider Interactivity. While not every business supports Interactive email content elements, they can increase click-to-open rates and drive more conversions. Whether it's an image rollover effector survey, make sure they're mobile-friendly.
Write content that is scannable. Whether your prospect is waiting in line or idling in the parking lot, make it easy for them to absorb your content.
Mobile Best in a Time of Pandemic
In spite of being at home more than ever, B2B customers are never very far from their phone or tablet. It's more important than ever for you to stay close to them on the technology they interact with the most.
Invest in data tools to closely monitor the shifts in how they engage with your marketing content. That proven email campaign, built on the mobile behaviors of April, may not be as effective if you haven't taken the time to see how your customers are interacting with the mobile content planned for late summer. This may be challenging for those used to closely following well-defined 6- and 12-month marketing plans, but savvy marketers know that in a time of uncertainty, flexibility is a key asset.
"It's not just collecting data, it's connecting the dots in such a way that we understand the multiple paths of how anonymized users convert." – Marian Bucher, Otto
Flexibility and improvisation may rule the day, but now is not the time to ignore the data your marketing analytics is generating. You want to look for major shifts in buying patterns, as well as smaller signals that might point to say, increased frequency of touchpoints along the buyer's journey. "It's not just collecting data, it's connecting the dots in such a way that we understand the multiple paths of how anonymized users convert," says Marian Bucher of German-based company Otto. Adds Daniel Sichel of UK agency Mindshare, "Trying to predict how and where consumers will engage with campaigns has been particularly challenging. It's taught me to not assume I know best and just how vitally important it is to open up conversations with our audiences and customers and get better data."
The First Thing to Do After Reading This Article
To start maxing out your mobile best strategy, bring your SEO and content teams together to take a good, hard look at your website. Identify ONE thing you can do today to make it the best version of its mobile self. Use that as motivation to kick off a thorough look at what is and isn't working with your entire mobile marketing plan.