Your People Make the Difference in Your B2B Tech Business
The Article in 60 Seconds
Many B2B companies maintain that their employees differentiate them from their competition. How can they make this assertion? They've relentlessly focused on what that truly means.
Their people-first culture acknowledges how powerful even the simplest customer-employee interaction can be. But they don't stop there. When differentiation comes down to "who," organizations make sure this vision is reflected in everything they write, do, show online, present at trade shows, and in every current and potential customer encounter.
Think About This
In a sea of similar SaaS products, remember:
A Bain & Company-led study of 2,300 IT infrastructure and commercial insurance decision-makers showed that, out of 36 elements of customer value, product quality, expertise, and responsiveness were the strongest predictors of customer loyalty — cost reduction didn't even break the top 10.
Just over half — 54% — of salespeople clearly explain how their solution positively impacts a customer's business.
Culture-driven organizations experience 26% fewer mistakes, 22% higher productivity, and 30% stronger customer satisfaction, according to Kris Boesch of Choose People.
Even if you're selling a commodity, stop selling it like one.
"People may forget what you said, but they will never forget how you made them feel" — Carl Buehner
When you focus on the true value employees bring to the table, it elevates your offering from the competition, and turns your workforce into customer-obsessed ninjas. In this differentiated equation, the derivative of being an employee-centric and customer-centric organization is growth.
Why You Should Differentiate Based on "Who"
When your product is something like IT infrastructure (as referenced in the Bain study quoted above), it's easy to see yourself as a commodity. And that's OK. The companies swimming in this part of the B2B pool will prevail when their chief differentiator is a WHO instead of a WHAT.
At first glance, defining your organizational mojo as a "who" is tricky: "Our people come first." "We're a people-driven business." When companies trot out these old saws, most of us stifle a yawn. It's like saying your office is connected to the worldwide web. It doesn't get much better when they add: "Our team of experts can…". Okay, now you're telling me that not only do you have Internet, you have Wi-Fi. All companies are made up of people, but companies that differentiate based on the people who work there are going to have to prove it.
Passing the Differentiation Test
"A cynic is a man who knows the price of everything and the value of nothing," said playwright Oscar Wilde. Too often, companies pay lip service to how much they value their employees, only to expend very little effort on what it takes to build a truly people-driven organization. They focus on standard people management processes and metrics like "cost of hire" and "days position is open," instead of metrics that build toward a uniquely people-first, servant leader enterprise. When everything's about cost controls in employee management, the value of individual effort and group dynamics is diminished.
To prove you have the kind of company that differentiates based on its people, you'll have to pass what one expert calls "the differentiation test." Ask yourself these questions:
Is it real? Being the company that everyone wants to work with because of their responsiveness, expertise, and genuine commitment to customer service should be readily apparent.
Is it relevant? Few customers stop buying from a company because of their excellent customer service, but you may be in such a price- or product-driven sector that developing a people-first company may not be your priority.
Can you prove it? Instead of saying "our responsiveness is unparalleled," be ready to cite proof points, such as: "We ask customers how we're doing on a regular basis. In a recent survey, 95% say our prompt and accurate response to their queries is the number one reason they value working with us."
How to Differentiate Based on Who
Start with You
Begin with yourself. Does every decision you make factor in how it will impact your employees and customers? Great! You're on your way to a people-first mindset. Now, drill down to define that set of actions that you and your team does that demonstrates your value.
Next, take a long look at your competitors. Define yourself and your company against them. What does your competitor do that you don't? When it comes to management, how am I like/not like this company?
Even if you're not yet at a full people-first mindset, develop your baseline and establish a path towards progress.
Get Strategic with HR
Building a people-first enterprise starts at a strategic level with your human resources team. As the Josh Bersin Academy, a professional development community for HR executives, maintains "We're living in the fourth industrial revolution: we've digitized the majority of our business processes, products, and services. In this world, client-centric operations, 24/7 customer service, and a continuous process of iterating and improving reign. And they are all entirely dependent on people."
This is not the time to base all your hiring decisions on a 30-minute interview and half-baked notions of "she'd make a good fit." The same goes for employee evaluations and periodic checkins. Organizations that make them perfunctory and something to get out of the way so you can get back to "what's important" can hardly be said to be putting their people first.
In this world, client-centric operations, 24/7 customer service, and a continuous process of iterating and improving reign. And they are all entirely dependent on people.
Always Be Recruiting
B2B companies that go the people-first route can't afford to hire just anyone. Their dual emphasis on employee engagement and a rapt devotion to the customer creates an environment that not every potential hire — no matter how talented — can inhabit. Filling every new or open position will naturally take longer, so plan accordingly.
It helps to be willing to look in unconventional places. One expert cites an example of a wood delivery company that hires customer service reps who can also drive 18-wheelers. They want their drivers to develop "strong social ties with clients while making deliveries — to develop trust and gather information about upcoming shipment issues."
Consequently, their hiring metrics are centered not on trucking experience, but on unique hiring metrics "that reveal whether they are hiring drivers who are strangely attracted to a job where they are expected to get to know the plant managers and learn something when they deliver."
Feature Your Experts
Make a list of the top employees who can speak with great authority on a topic or topics, and share their expertise on your company's owned channels as well as through public relations.
If you're like many SaaS companies, you have staff who've been working on your product since day one. They know the product's many iterations and are likely the best troubleshooters when things go wrong. At the same time, there are those who've been monitoring customer behaviors and habits as they relate to your product. And don't forget C-Suite leaders who can speak to broader industry trends, leadership issues, etc.
Conduct Original Research
Like elevating the profiles of your in-house experts, original research communicates how your company's people-driven expertise makes your organization an indispensable customer resource. Data analysis of brand research, customer satisfaction statistics, and annual industry trend reports developed in-house are all powerful ways to build trust and bring clients back for more.
Use Company Culture
There are several ways you can bring culture to the center of your message and humanize your brand, including sharing your mission and values, incorporating candid photography and videos of employees, and highlight real moments that convey "what employee life is like." Make sure your "Careers" and "About Us" pages give prospective employees a reliable impression of your organization and its culture.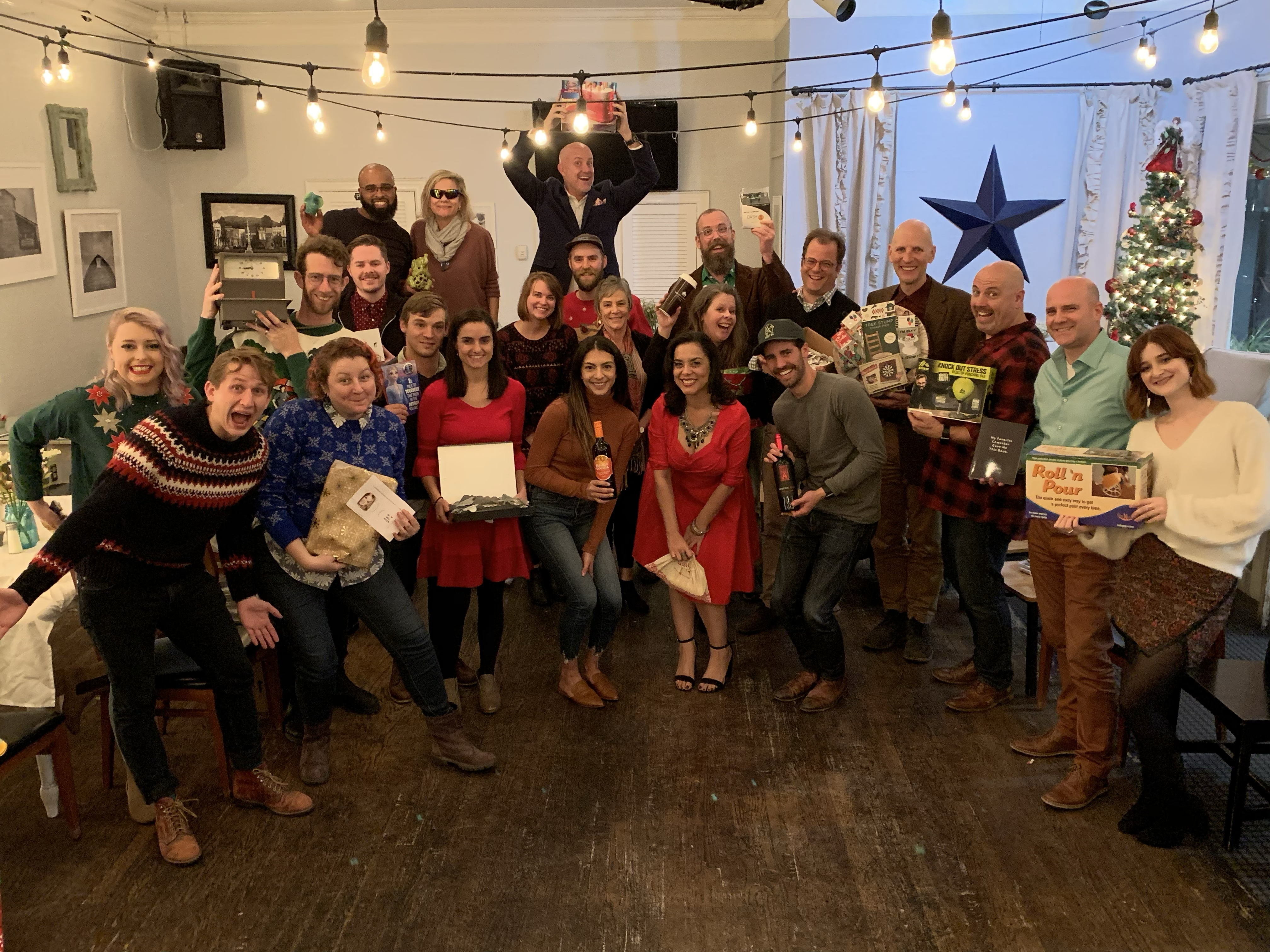 Some of our team at our annual holiday party
Who's Doing a Good Job with Who Differentiation
Apollo LIMS is a laboratory management system to manage lab workflows and lab operations for everything from toxicology labs to doctor's offices. They lead with their people in everything they do. Take the "Why Apollo LIMS?" tab on their website. The discussion of product is there, but it's more of a starting point. Instead, they feature plenty of client testimonials and case studies as proof points to highlight their expertise and steadfast technical support.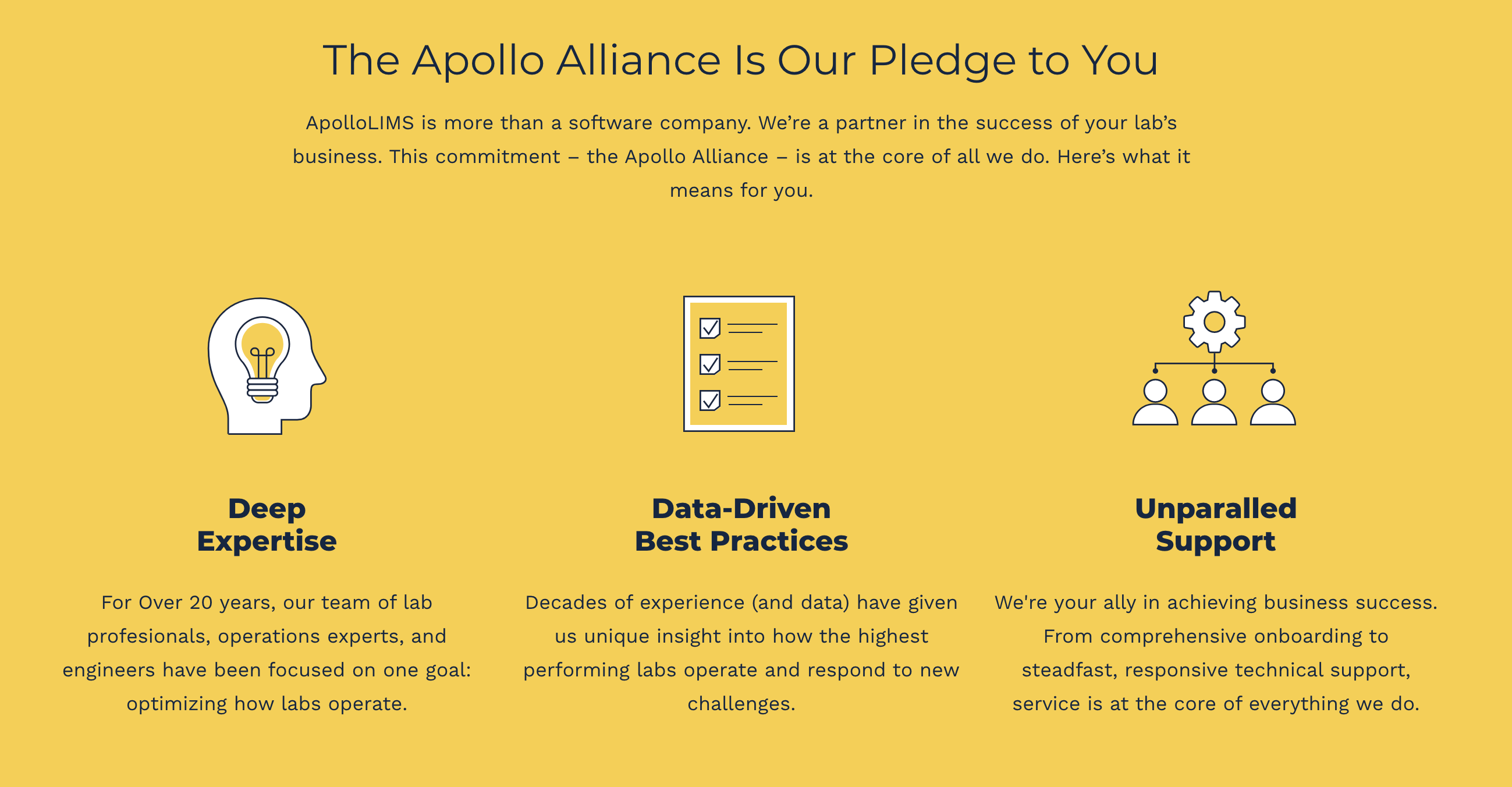 CI Security is a cybersecurity firm serving a number of industries. Unlike similar firms, which overwhelmingly tend to prey on a buyer's data breach fears, CI Security leads with reassurances about their ability to detect and fend off cybersecurity attacks — table stakes for this vertical. But they quickly shift to the passion their people have for their work: "…save money and time by handing off detection and response to people who love doing it." Their "About" page says it all — "We are people passionate about security" — and they are quick to back up the claim with lengthy case studies stretched across several verticals.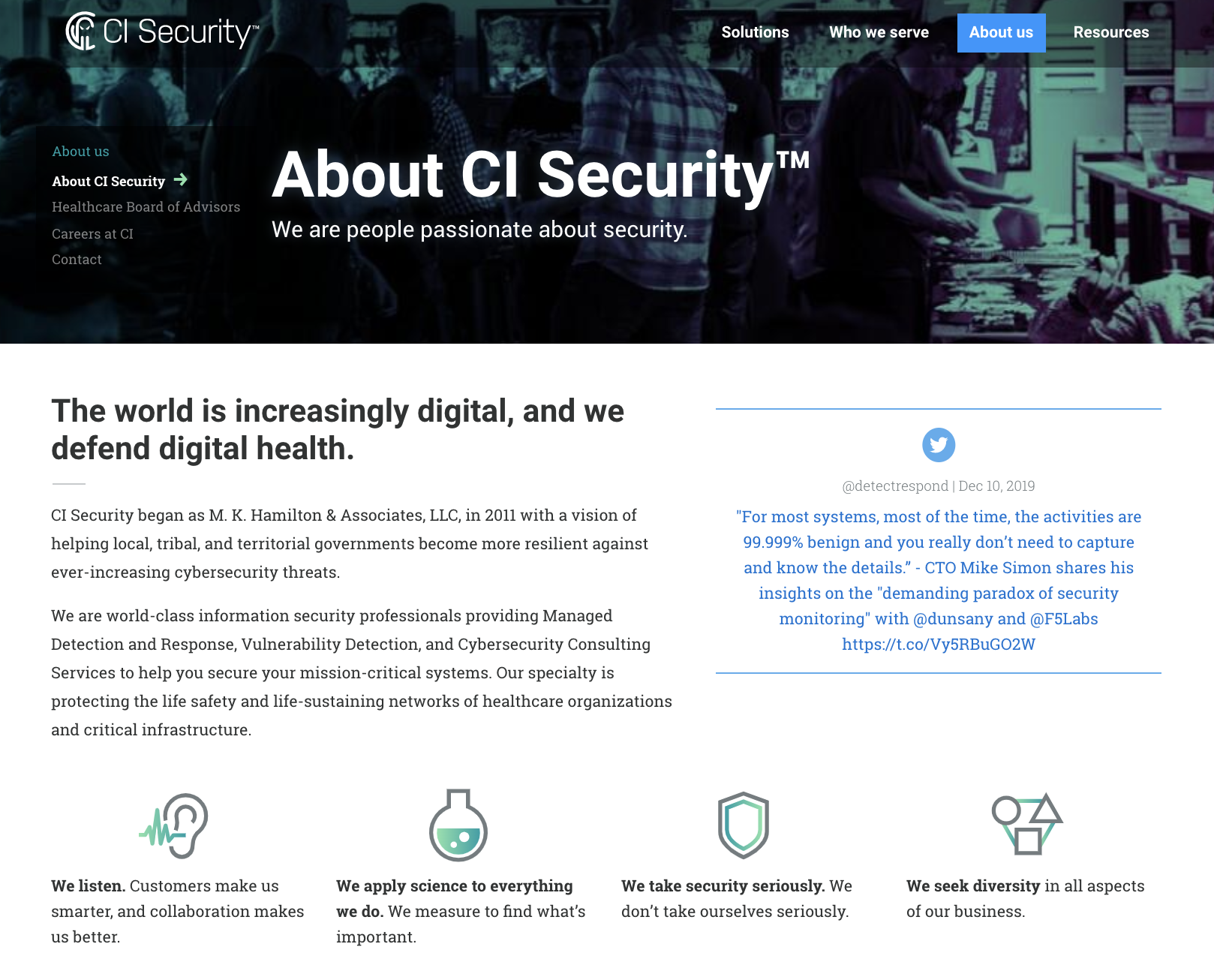 Moving beyond websites, probably the best example of a B2B company that is people-first, from both a customer and employee experience level, is the now-ubiquitous Slack messaging platform. It's ranked by Forbes for its outstanding customer experience and was placed on LinkedIn's 2019 list of Top Companies to Work For. According to Forbes, "The company's customer experience is built on real, human communication with heart."
One B2C example of a Who differentiating company that's also worth mentioning: Crutchfield. As our CEO John Farkas recounted in an earlier post, the electronics retailer has elevated customer service to an art form. When Crutchfield customer service reps are ranked for providing strong customer service, the customer has the option of choosing how to reward the rep for his or her work: "The real master class was down at the bottom where they gave me the opportunity to choose how they will reward Charles for his good work. This is REMARKABLE on so many levels. Charles is now not just a real person; he is a fellow human that I can now have an impact on."
Leave People Better than You Found Them
In the Southeast, church signs are an art form. There are books, calendars, and an annual Funny Church Signs contest ("A Long Time Ago in a Galilee Far, Far Away" is a favorite). One church I pass regularly recently posted this saying that has stuck with me. On the westbound side, the sign reads: "If you want more kindness in the world, put it there." Heading east, you'll read: "Always leave people better than you found them."
Companies should always prioritize its employees and treat them with kindness and respect. But for organizations who need to elevate themselves above a raft of similar offerings, building a workforce that's equally — if not more — valuable to customers than the product being sold is vital. Whether it's producing something faster than the competition, or a customer success team that obsesses about every detail for onboarding a new client to their software platform, your employees must stand apart.
Your clients may be able to purchase a similar product elsewhere, but they don't, because your company is where they feel the most valued and the most known. Companies that consistently leave their clients better than they found them are rewarded with loyal customers, who in turn become enthusiastic brand ambassadors that want to see you grow.
The First Thing to Do After Reading This Article
Set two appointments: one with your highest performing customer success representative and one with a fairly new and promising rep.
Ask them about a few recent interactions with clients. What went right? What went wrong? What's keeping them from providing the highest level of service to clients? Is it the product, a process, or a person?
Then, commit to taking two steps towards resolving the issue that same day. You may be pondering a product update earlier than you thought, so there's no time like the present.