Your Sales Deck: The Key to a Faster Close
Your clients know they have a problem. Your sales deck must show them you truly understand their problem and that you have a proven solution.
Often, by the time your sales team wins the opportunity to deliver an in-person presentation the customer has weeded through a number of potential solutions and settled on a select few worthy of a hearing. They may have even reached a strong preliminary conclusion and are just wanting to demonstrate diligence. This is the moment it all has to come together.
Think about the last time you were on the buying end of a sales pitch. Were you completely engaged, eager to buy the product, ready to invite the salesperson over for dinner?
Probably not. Most likely, you were watching the clock, scrutinizing the presenter, and reading the slides. What was the point of taking the sales meeting in the first place?
The hard part of marketing is putting the focus on the customer. According to HubSpot, you'll have 8.2 customers involved in the decision process. Ideally, you'll get them all in the same room at the same time for your presentation — and your sales deck will need to speak to of each one of them.
Know Your Buyer
Beforehand your prospect has done their homework. Forrester reports that 62% of researchers make selection and short-list decisions before they even meet you. Your job is not to tell them what they've already heard and read for themselves. You are in the meeting to offer an empathetic point of view that demonstrates the kind of partner you are going to be.
They are asking:
Who are you?
How well do you connect with our team?
Can you truly meet our needs?
Do you "get" who we are?
Come prepared. You can get to know your buyer better through surveys, paying attention to the channels where your customers hang out, and carefully crafting your Buyer Matrix SM.
That foundation is essential. The next step is to ask meaningful questions that ensure you tailor your conversation to meet their needs.
Creating an Empathetic Sales Deck
Trust is built on the foundation of empathy. Empathy toward your customers is built on the clearly understanding their needs.
Follow the four steps outlined below to create an empathetic sales deck that will pull prospects to your solution.
1. Identify the Problem
"I want to help you. Tell me about these issues."
In most cases, buyers come in to a sales conversation reluctantly. They may have taken the meeting, but they're not interested in being sold — they're interested in finding a solution. Ensure your deck leaves room for this exploration.
Start the conversation by getting information on the front end to help you target the problem. Asking well-formed questions gets people talking and shows your level of understanding. People like to talk about themselves and this is a good space to give them that opportunity.
Be straightforward. You could start with, "Hey, here's what I know about you. Is this accurate? And what are some of the considerations that this variable yields in this for you guys, because that will affect how I approach this conversation." This approach shows that you're interested — and not just in making the sale. In this way, you're moving into a consultative role, where you show that you have a desire and an aptitude to be able to mold things into their context.
2. Understand the Problem
Now that you've clearly identified the problem, it may be instinctive and even easy to swoop in and "save the day" with your winning solution. But what your customer really needs to see first is your empathy and understanding. That wins initial trust. Now it's time to convince them that you get it. Show the depths of your understanding of the problem. Talk about their hopes or fears or pain points, letting them know that you understand those specific issues.
Identify as many pain points as possible. Ask questions, analyze information, observe, and offer informed, contextual perspective and highly competent assistance. The best way to win over most B2B decision-makers is to come alongside and begin to equip them until they see you and your product as part of the team. Show them that you're here to help, that you understand their problem.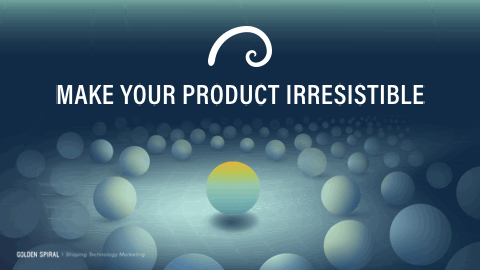 3. Offer Your Solution
Ensure your deck leaves room to contextualize how you present the solution. A common mistake is using too many words on a deck and then you are hostage to language that may not fit the context. Keep the deck simple and use your conversation to frame it in their context. Match up as many pain points as possible to your product's solution. Your investment in gaining a narrative understanding of your potential clients and their issues allows you to truly speak to their problems — and your answers.
The content needs to be comprehensive, but not in the weeds. As much as we'd like to think that C-level people have the technical understanding, they don't always. Explain things at a level that they can understand, breaking down the value proposition without the technical jargon.
Bring the essential business case, giving them foundational pieces of knowledge so they understand what you're saying and the real value of your solution.
4. Demonstrate that You Know How to Execute
You've identified your audience and their problem, and you've convinced them that you understand the problem. You've shown that you're offering the most valuable solution. Now show them how you succeeded with a strong customer. (If that customer is willing to speak to prospects on your behalf, you are in even a stronger position.)
Technology is becoming increasingly ubiquitous. The ability to successfully apply it repeatedly at scale is the key to inspiring confidence and winning deals. Presenting a case study allows your buyers to put themselves in your shoes and make the obvious associations that you want them to make by showing them that it works. Include implementation as part of the case study to ease concerns about integration and onboarding. Be prepared for IT folks to be part of the discussion; knowing that you've got a tight, successful framework already established means they're not going to be the guinea pigs as you figure it out.
Now you're ready to push forward. "Is what I showed you in the context of this case study a compelling value proposition for you? Would that make sense in your organization?" If you've done a good job, you'll get a positive response. Don't be afraid to ask, "Do you agree that this is translatable into your context? And if so, what would keep you from this?" Be prepared to tell them exactly what needs to happen next to get things moving.
Avoid Common Pitfalls
Your Sales Deck is an Aid not a Crutch
Create your sales deck to complement and support your story, but don't let it tell the story for you. Design your deck to outline the big picture while you interact and narrate. You don't want your audience to be so busy reading the screen behind you that they are not fully engaged with what you are saying. A redundant slideshow presentation splits your audience's attention and ultimately compromises the effectiveness of your message. A good presentation will add emphasis to the points you are already making with compelling graphics and visual representations of important information.
Follow Basic Presentation Guidelines
Use all-caps for titles only
Stick to 20 words or less per slide
Include meaningful images
Stay true to your brand's visual identity
Resources:
Key Takeaway
Investing in a well-designed sales deck pays off by allowing your best sales people to do what they do within the structure you create for them. You keep them on track, focused on the client and the solution, and on the personal relationship.
Your sales deck needs to tell an empathetic story. That story starts with a solid narrative supported by critical points which show your buyer that you really see and understand their problems. Once you wow them with your solution and its ability to address all their pain points, you're ready to show them a practical, real-life case study of your success.